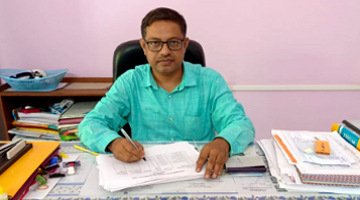 Prof. Jyotiraj Pathak
M. A., Ph. D., PGDHRM

Principal, North Kamrup College2021–Present
It gives me an immense pleasure to welcome you to the official website of North Kamrup College and I would like to thank you for taking the time to navigate its content.

North Kamrup College, established in 1979 under the pioneering leadership of some visionaries of Baghmara area of Bajali is a prominent seat of higher learning in Assam. Here, we strive to impart quality education to the learners who come from various parts of the region. We also try to imbibe the core values of life to the students so that they become good human beings and good citizens.

Although, we provide conventional Arts Education, one of our priority areas is development of skills among the students. We aspire to introduce some vocational and job oriented courses in the near future so that our students can simultaneously acquire some additional diplomas and certificates along with their degrees during their stay.

Centrally located in historically enlightened land of Baghmara, we have very good infrastructure in the campus. Our library is well equipped and we provide ample amount of resources to the students as well as faculties. We also have a fully furnished college canteen within the campus. Our faculty members are very concerned about the well being of the students and they always extend helping hands for the academic, spiritual and socio–cultural development as well. Maintenance of discipline, punctuality, and regularity is top priority of this institution. The Internal Quality Assurance Cell (I. Q. A. C.) of the college takes care for improving quality of education and suggests measures for overall development of this institution. We can assure that after passing out, our students will fondly remember the college and call themselves a proud alumnus of North Kamrup College.